Balsamic Roasted Brussels Sprouts – Recipes from the Chef
As the days heat up and we begin to fill our garden with fresh produce and herbs, we look to Chef Kyle for delicious inspiration. Known for his excellence with vegetarian cuisine, Chef Kyle Vermeulen has a way with greens – even for those picky eaters!
These balsamic roasted brussels sprouts are hard not to love! They bring a delicious spring flavor with a hint of Kyle's signature Spice Mix.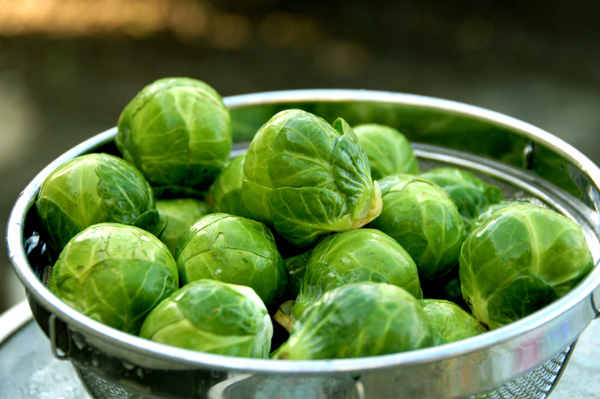 Balsamic Roasted Brussels Sprouts Recipe
Serves 10-15
5 lbs Brussels Sprouts – trimmed and cut in half lengthwise
½ cup balsamic vinegar
½ cup olive oil
2 tbsp La Prima Spice Mix
2 tbsp chopped garlic
Pre-heat oven to 400 degrees
Place trimmed brussels sprouts in a bowl and add remaining ingredients; mix well.
Place in a single layer on sheet pans
Roast at 400 degrees for 15 mins
Serve warm
Interested in more recipes and delicious ideas? Want to order your own bottle of Chef Kyle's signature Spice Mix?
Call us today at 301.477.3515 of email us at inquiry@cateringbyseasons.com.
Posted in: Garden and Partner Farms, Our Food, Recipes
Tags: balsamic, brussels sprouts, catering by seasons, farm to table, garden, healthy, local, locally grown, recipes, roasted, spring recipes, vegetarian
---
---
Reviews
Stefanie was such a huge help! Everything was smooth, she helped us find ways to cut costs and advocated for us with our venue.
Catering by Seasons is great! We booked them for our wedding. Stephanie was so great with working with us on our desired budget.
I can't say enough great things about our entire experience planning our daughter's Bat Mitzvah with Glynis Keith, Catering Manager, with Catering by Seasons.